My Boss Just Asked Me to Run a Study From Behind the Glass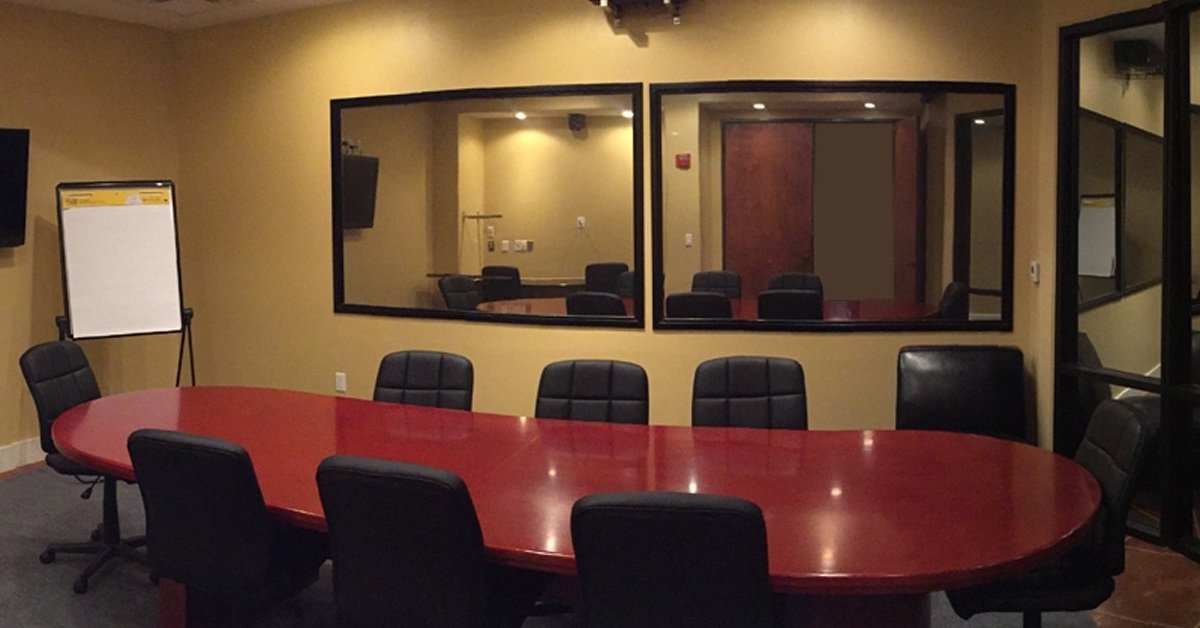 There has never been a challenge like COVID-19 for both businesses and individuals. With stay-at-home and social distancing becoming the new norms, some business activities, such as user research, encounter unprecedented changes and difficulties. Technology development in the last decade has evolved and proved that we can accomplish almost everything over the Internet, including many aspects of user research, but not all.
Why conduct studies from behind the glass?
There was a time when some facilities and researchers conducted studies from behind the glass. The idea was to mimic a "real" environment where the researcher is as absent as possible. To quote Nicole Proulx, Research Director at Human Interfaces, "For researchers in my generation, we came out of school running studies that way, and only went in the room for intro and debrief." This trend became less prominent in the early-to-mid 2000s. The rise in popularity of face-to-face research was likely due to a variety of reasons, including making participants more comfortable, giving researchers a better perspective, and managing the sessions in a simpler and more convenient way. In the years leading up to the COVID-19 pandemic, it was rare to have a study run from behind the glass.
While remote testing with web conference software has been widely embraced and adopted in the last couple of months with the outbreak of COVID-19, it's not suitable for all product types. In-person studies that require physical user interactions with certain product types face obstacles; some even get canceled.

In order to assist our clients in moving forward with product development and ensure our participants' safety, running studies from behind the glass is a solution for us to resume pseudo-face-to-face research studies in our Human Interfaces Research Labs.
How does running studies from behind the glass work?
Conducting a study from behind the glass is almost the same as talking to users and gathering their feedback face-to-face. The flow remains identical – the hands-on tasks and discussions begin after a brief introduction to explain the equipment setup and how the session will go, and are followed by thanking and dismissing the participant.
The only differences are the environment setup and communication tools. Our one-way mirror and observation room come into play and create some spatial separation between the researcher and the participant. Additionally, we use cameras to ensure a clear view of the user-device interaction from behind the glass, and microphones to maintain good two-way communication between the researcher and the participant.
The researcher observes the users' behaviors, collects their feedback about the products, and probes questions to explore their thoughts and preferences, just as if the researcher was sitting in the same room with them. Utilization of the tools, such as the one-way mirror, the cameras, and the microphones, ensures that we can still run usability studies and bring users in the part of the design process for our clients in this pandemic.
What should be kept in mind when moderating from behind the glass?
Running studies from behind the glass comes with a set of challenges. As we have learned how to best cope with these challenges, here are three tips that have helped us to find success:
Establish a good rapport
It is typical during any study that a participant might be nervous and uncertain about what to expect when a session begins. This may just get worse when they sit alone in the lab without seeing or hearing from the researcher in person. The quality of a session and the data gathered are related to the rapport the researcher builds with the participant. Therefore, making sure that the participants are comfortable is even more critical when conducting sessions from behind the glass.
Upon welcoming the participant to the lab, the immediate interaction sets the vibe. For example, as the microphone plays an essential role in the interview, a simple question like "How's the volume?" would show your friendliness, which would build a positive relationship upfront with the participant.
When a participant can't see your face in this setup of spatial separation, the researcher's tone of voice drives the entire story. Try to talk gently, slowly, or even smile when you talk. When you smile while talking, your voice automatically sounds more positive and friendly. It welcomes the participant in.
Simplify the logistics as much as possible
Clear and straightforward instructions are like a comfort blanket for users. Body language is no longer a possible aid in explaining the instructions from behind the glass. Therefore, words become the only way to present explanations. A readily accessible note on the wall with understandable scenarios or task instructions, or some plain verbal task explanations will help users feel more comfortable.
Online surveys are an effective way to gather feedback on products, especially when trying to minimize person-to-person contact. Bookmarking tasks and surveys on a web browser, with clear and simple labeling, will reduce stress and struggles for participants who will be expected to navigate on their own. Clear labeling and proper organization make the workflow more straightforward. Participants will less likely be confused with vague naming and unorganized links – fewer things for them to be nervous about.
Implement a precaution plan
Hygiene is a key concern during this pandemic. Here at Human Interfaces, we have additional measures in place to maintain a healthy environment, and to make sure that our participants are comfortable and protected when they come into our research facility. These measures include requiring all who enter our labs to sanitize their hands upon entry, wear a mask at all times, and maintain 6' safe distance from others. Additionally, we have gone paperless with documents (NDA, surveys, etc.).
After each session, we sanitize all possible spaces, including work surfaces, chairs, testing devices, and door knobs with disinfecting wipes and alcohol cleaning products. We also provide a bottle of hand sanitizer in the lab so participants may use it during the session as they see fit. Proper sanitization protects our participants and gives them some confidence in coming back for future studies.
Key takeaways
User research conducted from behind the glass has become a practical solution for physical products that require user-device interaction amidst the COVID-19 pandemic. Utilizing communication tools, such as the one-way mirror and microphones, the differences between research from behind the glass and face-to-face research can be minimized while still maintaining the spatial separation. Building a good rapport with a friendly and positive tone of voice, using a straightforward workflow, and maintaining a thoroughly precautious hygiene plan are key elements in the successful implementation of this type of research, and will help instill confidence and comfort in participants during this difficult time.
Yu-Shin Lin has an MS in Industrial Engineering, focusing on the field of Human Factors. She enjoys learning how people's behaviors affect the design of products and interfaces in our lives. She works with an expert team of UX professionals at Human Interfaces, Inc to help custom research solutions for any UX challenge. If you need help from a full-service UX research consultancy for a study, recruitment, or facility rental, visit our website or drop us an email.